CBD is short for Cannabidiol and is just one of the 100+ known cannabinoids (aka phytocannabinoids) in hemp, alongside the likes of THC, CBC, CBDa, CBDV, CBG and CBN.
Unlike nuts or fruit, cannabinoids aren't by-products of hemp where you can pluck and eat directly from the plant. To safely ingest cannabinoids—like CBD—they must first be extracted from hemp. In this process, the harmful plant compounds like chlorophyll, lipids and waxes are removed; and the cannabinoids and other beneficial hemp compounds like terpenes and flavonoids become available to be infused into an oil, tincture, topical or edible. 
The varying degrees of extraction will produce different spectrums, from a Full Spectrum CBD Oil to a Broad Spectrum CBD Oil or a Pure CBD Oil. 
Science is showing that cannabinoids like the coveted CBD interact with the body's endocannabinoid system to help restore balance and physiological homeostasis. While there are specific health benefits attributed to the cannabis plant's isolated Cannabidiol (CBD) compound, the majority of scientific studies show the greatest range of potential medicinal benefits occurs when key cannabinoids–including CBD, CBDa, CBDV, CBG, CBC and THC–and terpenes work together in a Full Spectrum CBD Hemp Oil.  
Hemp extract and CBD benefits a myriad of health conditions, making it a sought after product for wellness
Is CBD Oil legal in all 50 states?
Now that we know what CBD is, usually the next question to follow is, "Is CBD legal?" In short, yes but let's break down the legalities a bit further to address some of the complexities with this question as well as the difference between federal and state law. 
The 2018 U.S. Farm Bill legalized the cultivation of Registered United States Industrial Hemp with no more than 0.3% THC. This federal law recognizes hemp as an agricultural commodity and in doing so, has declassified CBD from a Schedule 1 substance to a Schedule 5 substance. 
There are 5 classes of controlled substances. Schedule I classification implies that the drug has no medicinal benefits and prohibits research on the substance. Until 2018, THC had played the largest role in why hemp was listed as a Schedule 1 drug because of the psychoactive effects of the THC cannabinoid. 
Conversely, a Schedule 5 substance is the lowest classification and is considered less addictive with a lower potential for abuse. The FDA and DEA have stated that Schedule 5 substances may include analgesic, antitussive or antidiarrheal drugs. To put this into perspective, Lyrica and Robitussin AC are classified as Schedule 5 substances. Schedule 5 drugs do provide medicinal benefit, and thus this reclassification of hemp is celebrated by researchers and those who are interested in hemp extract and CBD benefits.
In 2019 the U.S. Department of Agriculture further announced the decision that explicitly allows hemp to be transported across state lines with compliance to state-approved programs. While federally, hemp-derived CBD is legal in all 50 states, consumers, retailers, manufacturers, distributors and farmers are still at the mercy of state laws.
At Veré, all of our hemp extract and CBD products are hemp-derived and comply with the U.S. Farm Bill as well as all state laws. As of April 2020, hemp-derived CBD is legal in all 50 states with the exception to Nebraska. As such, our Veré CBD products are available for purchase online and can be delivered straight to your door anywhere in the United States with the exclusion to those who reside in Nebraska. Almost all U.S. residents can have access to CBD products, so let's dive into "What is CBD Oil" and why it has gained great popularity. 
CBD Hemp Oil, is this different from CBD Oil?
The source of CBD determines the legality so let's look at the difference between hemp and marijuana. Both are variants of the Cannabis Sativa species. However, the degree to which THC is present in the plant determines whether that cannabis plant is identified as hemp or marijuana. Hemp has 0.3% THC or less; whereas marijuana has more than 0.3% THC. 
Hemp-derived CBD Oil is bred from high-CBD and low-THC hemp cultivars. Cannabidiol (CBD) and THC are just 2 cannabinoids present in cannabis. CBD dominates the hemp plant's makeup and there are only trace amounts of THC so people can experience the benefits of CBD without the psychoactive effects of THC.
CBD Oil, CBD Hemp Oil, Hemp Extract Oil and CBD Tincture all contain the cannabinoid CBD. Oftentimes, these labels are used interchangeably, making it confusing to consumers. Typically, CBD Oil only contains Cannabidiol (CBD), unless specified as a Full Spectrum or Broad Spectrum; whereas CBD Hemp Oil, Hemp Extract Oil and CBD Tincture may include more than just CBD, like a variety of other beneficial cannabinoids, terpenes and flavonoids. 
Our Full Spectrum CBD Hemp Oil contains more than CBD and includes cannabinoids—CBDa, CBDV, CBG, CBC and less than 0.3% trace of THC—in addition to terpenes and flavonoids. 
Our aim is to educate, enlighten and empower you with more knowledge about CBD Hemp Oil and CBD Oil. If you have gotten this far we hope you now have a  better understanding of "What is CBD" so let's get into how CBD works. 
Research has revealed that our endocannabinoid system is responsible for maintaining and controlling the body's homeostasis (balanced system regulation). It accomplishes this through two known receptors: CB1 and CB2. The body produces its own endogenous cannabinoids, but many scientists suggest that a large portion of the population suffers from "cannabinoid deficiency." Without sufficient dietary cannabinoids, the human endocannabinoid system operates at less than peak efficiency. This may lead to a general health decline but supplementing our diets with CBD Hemp Oil could play an essential role in optimizing health. 
We all know that life happens and our environment and circumstances affect our bodies, its systems, its performance and how we feel. When CBD Hemp Oil is absorbed into the body, the CBD and cannabinoids bind to specialized receptors in the body, stimulating the endocannabinoid system. This activation triggers the cell and neighboring cells to help the endocannabinoid system perform at greater efficacy and helps further restore balance and physiological homeostasis for optimal function. 
In short, CBD and cannabinoids promote overall wellness and help you feel better. While CBD is not intoxicating, many people who use CBD have reported experiencing an awakening effect after taking CBD. Results may vary on an individual level since our bodies are all unique and some people report no immediate sensations after taking CBD for the first days but with a daily routine they notice a difference in a few weeks. 
Many people are turning to CBD to help benefit a myriad of conditions like anxiety, inflammation, arthritis, joint pain, migraines, pain, premenstrual syndrome (PMS) and sleep. All of which impact the body on an emotional and physical level, but supplementing our daily diet with CBD or Hemp Extract Oil may alleviate the effects of stress and anxiety on our body for greater balance within our endocannabinoid system. Here are just a few ways stress and anxiety impact our body. 
We know the endocannabinoid system is a complex system of receptors found throughout the body. This affects modulation of pain and perception. The endocannabinoid system acts like other cell-signaling systems, where cells receive chemical signals from various stimuli to help the cells respond effectively and achieve homeostasis in the body. Let's say you have an injury for instance. The cannabinoids like CBD may help to decrease the release of sensitizers from the injured tissue to stabilize the nerve cell and nearby cells. This response from the endocannabinoid system accounts for the anti-inflammatory and pain-relieving effects that can benefit and support pain management.
More specifically, CBD in Hemp Extract Oil is shown to bind to the TRPV1 receptors, which influence temperature regulation in the body, inflammation and your perception of pain. When CBD binds to the TRPV1 receptor and is activated, this can cause your pain-tolerance to increase as well as to help efficiently regulate the body's temperature through thermoregulation.
As of 2019, the National Institute on Drug Abuse (NIDA) has stated that CBD has been shown to reduce stress in animals during testing trials. Subjects were observed and CBD was attributed to lower behavioral signs of anxiety. Additionally, the physiological symptoms of anxiety, such as rapid breathing and increased heart rate levels also improved.
CBD is shown to communicate with the CB1 receptors in the brain, which may also affect serotonin. Low serotonin levels have been associated with individuals suffering from depression, and in some cases the low serotonin levels may cause anxiety.
Research suggests that CBD has a powerful influence on sleep quality with many reporting more than 7 hours of uninterrupted sleep and increased dream recall. When CBD activates the Gaba and serotonin receptors, it supports the regulation of our circadian sleep-wake cycle (the body's internal biological clock). Additionally, CBD benefits our mental health (anxiety, depression and stress) so by calming the mind and our overactive thinking, CBD helps promote a faster onset of sleep.
There are many ways to take CBD Oil for a good sleep. Studies even show the cannabinoid CBN may also have powerful sedative effects and the cannabinoid CBG may help with insomnia. And in the case of the entourage effect, research has shown CBG's sedative properties are intensified by THC in a Full Spectrum CBD Hemp Oil.
CBD oil effects, what can I expect?
Does CBD Oil get you high?
The short answer is no, CBD Oil will not get you high. Hemp-derived CBD Oil, like ours at Veré, is bred from high-CBD, low-THC hemp cultivars. Therefore, the presence of THC is less than 0.3%. 
We have partnered with the leading U.S. cannabis genetics company to supply our organic hemp farmers in Colorado and Oregon with unique hemp genetics. Our registered industrial hemp naturally produces over 18% CBD, on average. Compare this to true industrial hemp, which produces less than a fraction of a percent of CBD. To craft our award-winning CBD Hemp Oil, we remove only 20 to 30% of the plant material—unlike most competitors. Other brands start with 2 to 10% CBD and repeatedly remove 90 to 98% of plant material—which significantly weakens the CBD molecule.
Because of our hemp plants' high-CBD starting material and our gentle refining process, our CBD molecules are not damaged or weakened by harsh solvents, chemicals or grueling refining processes. This allows our consumers to experience the effects of CBD and other beneficial hemp cannabinoids, without the psychoactive effects of THC. 
At Veré, we offer different variations of CBD Oil. While both our Broad Spectrum Hemp Extract Oil and our Pure CBD Oil have 0% THC, our Full Spectrum CBD Oil contains less than 0.3% THC. Due to this negligible level of THC, you will not feel the euphoric, intoxicating or psychoactive effects associated with THC. Most consumers prefer this low presence of THC in their CBD Hemp Oil due to the synergistic relationship between the different cannabinoids working together–the entourage effect. THC amplifies the wholesome properties of CBD and the other cannabinoids.
Difference between CBD and THC
Unequivocally, Cannabidiol (CBD) and Tetrahydrocannabinol (THC) are the two most studied and understood compounds in cannabis. While they are both cannabinoids, there is a major difference in their effects.
Unlike THC, CBD is a non-psychoactive cannabinoid so consumers won't feel "high" or under the influence. However, those who use CBD may expect to feel alterations in their mental and physical state with a reduction in anxiety and tension that brings about a greater feeling of calmness. CBD is an excellent alternative for those looking to relax, de-stress, alleviate pain and reduce inflammation—all the benefits without the "high" that is so commonly associated with THC.
Yes, it is safe. For anyone interested in CBD you may find navigating the online CBD space to be complex—at best—and precarious—at worst. There are thousands of CBD companies and even more hemp-derived products, from oils and tinctures to topicals and edibles. So, as a consumer, which brand should you choose and which CBD product is the best fit for your health and lifestyle?
Your health deserves the best so we encourage you to research the CBD brand and product to make an informed decision when you buy CBD online.
To start, not all CBD Hemp Oil is created equal. What brands put in their CBD Hemp Oil—and what they leave out—makes all the difference. To ensure the potency and safety of any CBD product, please consider the following: 
Potency of CBD Oil.

Are you looking for a Full Spectrum CBD Hemp Oil, Broad Spectrum CBD Oil or Pure CBD Oil? Each spectrum varies in cannabinoids. We encourage you to review the CBD Hemp Oil's

COA

(certificate of analysis) as well as the label to better understand the potency, spectrum and purity of the CBD Hemp Oil.  

Ingredients in the CBD Oil.

In addition to confirming the cannabinoid profile of the CBD Oil, it is important to also consider what other ingredients are included and not included in the CBD product. The COA will verify the absence of pesticides, solvents, heavy metals, additives, fillers, molds and mildew. 

Made in the US for Safety & Regulations.

Does the CBD brand follow U.S. Farm Bill regulations and is the CBD product manufactured by cGMP Registered, ISO Certified and FDA audited facilities?  

Customer Reviews & Experiences with the CBD Company.

Read the experiences of other customers who have used the CBD products for validation. 

Product Guarantees.

Does the CBD brand offer a guarantee? If they stand by their product and its efficacy they will provide a guarantee along the lines of a 30-day money-back guarantee if you are unsatisfied with the results.   

Customer Service.

Is there a responsive customer support team you can speak with to address any questions you may have prior to buying? 
As leaders in the ever-growing CBD industry, Veré has quickly earned a reputation for producing high-quality CBD Hemp Oil and Pure CBD Oil. Everything from our raw, organic hemp ingredients to our meticulous manufacturing to our attentive customer service is pure quality. Everything we do at Veré is deliberate.  Before and after each harvest, our hemp farmers test the plant material to ensure the absence of pesticides, heavy metals, molds, and mildews. After testing is completed, our hemp farmers then process and ship the cannabinoid-rich hemp to our state-of-the-art extraction and purification facilities where we turn the hemp biomass into our CBD Hemp Oil. Once converted into oil, each batch is tested in our labs and then shipped to our cGMP, ISO Certified and FDA audited manufacturer to be bottled. But before the CBD Oil arrives at your door, it undergoes another round of testing at a 3rd-party lab. The result: guaranteed purity, potency and quality. That's the Veré way!
frequently asked questions about cbd
More articles related to CBD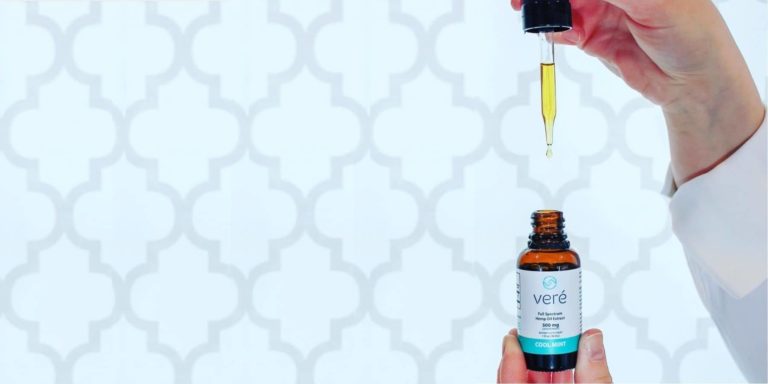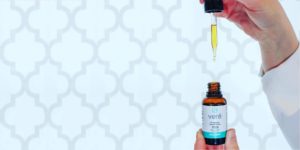 Many people use CBD Oil and for good reasons—from improving sleep, pain management and skin conditions to supplementing our endocannabinoid system and helping addictions. While we share 5 reasons to use CBD Oil, scientific studies show that CBD Oil used for our mental and physical health may be beneficial. The cannabinoids in CBD Oil have therapeutic properties that promote greater well-being so let's explore 5 reasons why you should use CBD Oil.
Read More »
Many consumers solely focus on which cannabinoids are present in their CBD Extract Oil. While this is important, it is equally valuable to understand how the CBD was extracted from the hemp initially. There are many different CBD extraction methods, all of which have different implications on potency and sustainability. Let's dive into the 3 most used methods—solvent extraction, CO2 extraction and steam distillation—and their pros and cons.
Read More »
CBD Oil may benefit a diverse array of afflictions and conditions, including anxiety, inflammation, arthritis, rheumatoid arthritis, migraines, pain, premenstrual syndrome (pms) and sleep. Each symptom requires a different dosage of CBD Oil to be most effective so we have engineered an easy-to-use CBD dosage chart to help you find the optimal dosage for relief and well-being.
Read More »